If you are writing a resume for the first time, it can be daunting, but it's equally daunting to even the most seasoned professionals. There is always the balance of what is too much vs too less. What's the right format and what makes you potential rise amongst hundreds of other applicants? There is no exact recipe, but keep it simple and meaningful and proof read it again and again every few days from the eyes of your employer and you will keep improving upon it. Here is a simple guide that works for most and for one I have used to professionally validate with consultants. I have written this mostly as context for IT professionals starting a new career, but it equally applies to experienced professionals.
Passing the Machine Filter
If you are applying for a job a reasonable large company or going through head hunters, chances are the resume is first consumed by a machine rather than a human. Recruiting firms and corporations today use software (popularly known as Application Tracking System) that use some degree of AI or keyword searches to filter hundreds if not thousands of resumes. That said, if you pass the first round of filters and are shortlisted for a human review, therein lies your chance to get the attention of the recruiting agent or HR personnel shortlisting the resumes. Finally the details that will be read through in detail by the hiring manager or the interviewer.
Simplicity is Key
Pick a template which is simple and clean design. Don't get tempted to use fancy templates from the web with colourful backgrounds and shadows and over formatting. There is a high chance that heavy formatted resumes will be misinterpreted by Application Tracking Systems and they may not pick up the right keywords due to high degree of code vs text ratio on the document.
The Structure
The header needs to have your name and contact details, with a link to your linked in profile. A photograph is optional, some employers prefer it, but some research suggests it can be used to discriminate . Depending on the country, industry and culture you belong to, make your own pick.
Career Objective statement captures your objective in one attractive line. This is the single most important thing for a quick review when HR professionals are shortlisting resumes for interviews. Write something that you truly want to achieve or pursue. Hiring managers love people with passion to learn and grow, so feel free to express your passion such as: "I want to learn and expand my IT Security skills at a large service based organization and contribute my skills to develop new and innovative ideas.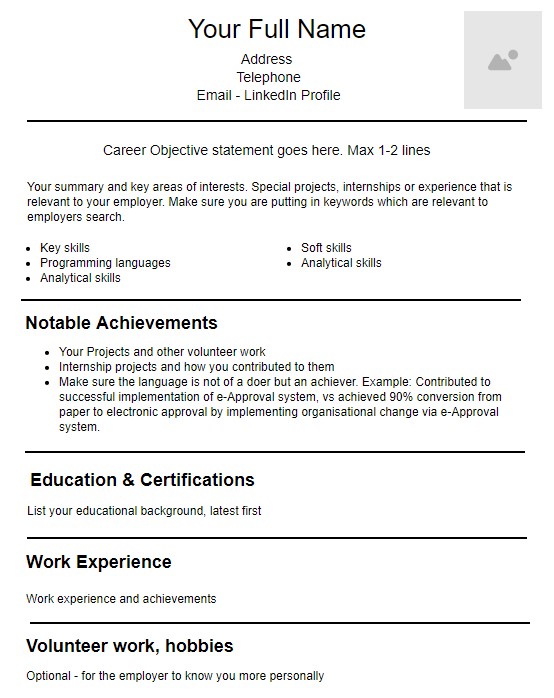 As a recent graduate most resume writers struggle with achievements and work experience. Understandably so as you probably don't have much. However, think about your course projects, internships or anything else that you can highlight. Make sure to sprinkle keywords related to technologies or domain areas that are of interest to potential employers. At the end of the day you are not making your resume for a machine but a human to read so it has to not look superficial with too many keywords.
See example above for a basic but clean format, usually a one page resume for fresh grad is a good idea unless you have significant projects, which you can add as a section.
Do's and Don't
DO:
Pick a simple yet balanced and clean template for your resume
Use text, ATS won't see graphics and it will be harder to get to key points for a human as well
Simple and commonly used headings (See example)
Spell out Acronyms (but do include them in brackets as they can be search items). Example ITSM (IT Service Management)
Include career objective or elevator pitch that includes one or two keywords and is inspiring for the hiring manager
DONTs:
Don't go overboard with keywords as they can be spotted by both machine and humans as junk
Don't use fancy fonts, stick with safe well known fonts (Arial, Times Roman, Verdana)
Don't make the resume too long and too boring. Make relevant experience, skills and education count.
I hope you found the article useful and will help you advance your career.